THE TELEGRAM, Toronto, Mon, June 30, 1958
The music is something grand, a credit to ...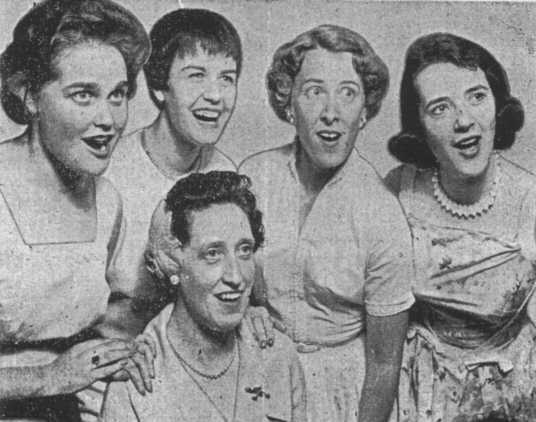 ... Old Ireland is Ulster's Singing Band
By LUCINDA CROZIER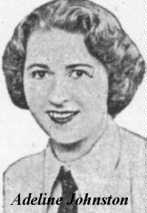 Choir director Irene Brown plays the piano, four former members of the Ulster Girls' Choir who are now living in Toronto sing the songs that will be on the programme when the choir visits Toronto next April, Left to right are Eileen Knox, Maureen MacCullough, Mrs Gavin McEwan and Ethel Thompson.
In Northern Ireland, they're holding beetle drives and selling rhubarb ... In Canada, they are getting their heads together figuring out a way to raise money .
In both countries members of the Ulster Girls Choir are making plans for the Choirs trip to Canada next April.
Miss Irene G. Browne, choir director, is in Toronto now, making arrangements for the tour. The girls will give two concerts at Eaton Auditorium and one at Timothy Eaton United Church.
Miss brown hopes that they'll give concerts all over the province, and in the United States too. "We'll go wherever we're invited. " She laughed.
The girls have raised the money to bring them here themselves. All the proceeds from their concerts will go to charity.
Age of choir members range from 12 to 23 years. There are 80 girls in the choir but only 60 will make the trip. The youngest ones will stay home.
The girls in Ulster are raising money by all sorts of methods. A favourite is the beetle drive. "Beetle" is apparently something like our bingo. Instead of covering the numbers with cardboard, however, contestants must draw part of the beetle over the number. When the whole beetle is drawn the game is over.
One girl is selling rhubarb out of her fathers garden. One is making chocolate eclairs and selling them to friends at school. Others are .... Missing fragment ......
The programme will include Ulster Folk Songs, and all sorts, from the classics to popular. There'll be Irish folk dancing too, taught by choir member Adeline Johnston. The girls will dance in Irish Green costumes with Celtic embroidery,
The choir costumes are pure Irish Linen - tan skirts, topped with beige blouses and matching tan ties. The red hand of Ulster is embroidered on the blouse.
The choir founded by Miss Brown eight years ago, has given concerts all over Ireland and in London. Their pet charity has been , since 1954, The National Society for the Prevention of Cruelty to Children (NSPCC)
It's charming ambassador, Miss Browne is enjoying her Toronto stay - although she was a little doubtful when she arrived in Malton. "It was pouring rain," she said in her soft Irish brogue. "I thought the plane had turned around and I was back at Nutt's Corner !" Nutt's Corner is the foggy, damp Northern Ireland airport location.